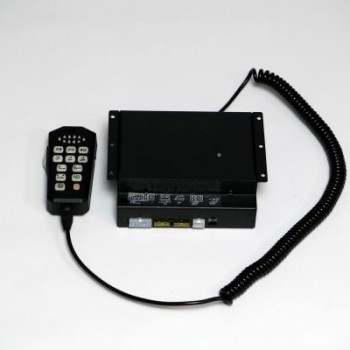 Gendarmerie – Police – Highway – Fire Brigade – Health – Civil Defense – Aviation – Search / Rescue – Coast Guard Teams, Municipalities and road construction teams are used as a vehicle type sound and siren anos device.
When the sound broadcast and siren announcer is turned off, it certainly does not draw current from the battery. In addition, the system is not damaged by a short circuit that may occur in case of possible reverse connection. The radio used in the vehicle is not affected by devices such as radar and does not affect these devices. It is controlled by the control unit. Again, the microphone and the announcement unit are located above the control unit. Siren and announcement systems work independently of each other, and when the siren is in progress, when it is desired to make an announcement, the siren can be interrupted and announced. When the announcement is over, the siren re-activates and continues to operate.
With the siren selection button, it is possible to apply different siren commands such as slow 12-13 repetitions/minute, fast 170-175 repetitions/minute and manual. The highest frequency of the siren is 1640 Hz and the lowest frequency is 695 Hz.
Stock Code: UBP