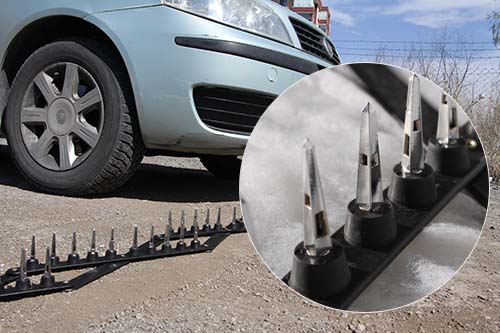 It is the most effective and reliable tire extinguishing method for disarming large vehicles that do not comply with the STOP warning by police and military authorities.
The special nails sinking into the vehicle wheels safely discharge the tire air, allowing the vehicle to decelerate and descend onto the rims after 50-100 meters. Road Trap Tire Breaker is designed to safely evacuate the air pressure in the vehicle wheels to force the vehicle to stand at a certain distance. There are 220 nails on the tire detonator. The nails provide a controlled discharge of the air in the tire.
Magnum Spike System can be easily laid down by hand and quickly recovered. For this purpose, there is a rope and special winding pulley, which is made of flexible material about 8 meters in length.The product has a specially designed carrying case for practical transport and safe storage.
The approximate weight of the bag with the bag is between 7.5 and 8 kg.
Inside the bag; There are rope-throwing apparatus, spare material kit,user manual and usage CD.
Inventory Code : YZS
Usage Method;
Take it out of the bag of the Magnum Spike Road Trap
Open the rope enough,
Throw the blasting nails pointing upwards quickly towards the opposite side, perpendicular to the horizontal to the road the vehicle came from,
Keep the rope a little away from the road for safety, while keeping the rope taut is very important to increase your speed of collecting the road trap.
As soon as the target passes over the Magnum Spike Road Trap, quickly pull the rope towards you and away from the road and collect the road trap to avoid damage to other vehicles.
After Use;
After use, check the nails visually, in case of missing nails, fill the missing places with spare nails.
If there is any contamination (such as mud, grass, stone), clean it. For longevity, clean with water and dry.
If there are damaged parts, you can remove those parts and use them in a shorter way until the damage is repaired.
Since the Magnum Spike road trap opens and closes very easily due to its ergonomic design, collect the trap by pushing it in from both sides, wrap the rope and place it in its bag.
You can put all the accessories and spare parts in the bag, lock them from the key points, and keep them in cars and checkpoints.
You should do these applications after each use.
If it is not used, you should make a periodic control at least once a year.