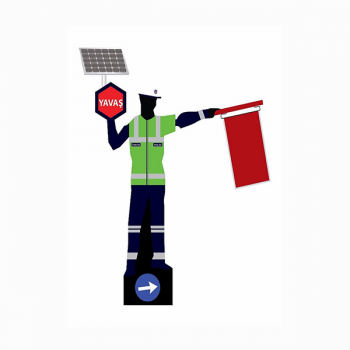 It is designed to provide easier control and safety in the fields of road maintenance and repair work without the need for additional personnel.
It is used in areas where road maintenance and repair works are carried out, on highways, in urban gardening and landscaping areas, in urban infrastructure work areas, in control / application areas made by our security forces. Portable flag waving robot is used to prevent possible accidents and to ensure the safety of employees.
With its solar powered panel and rechargeable battery, the flagger can warn the drivers at night.
However, considering the human factor in the application of the flag bearer, which takes on an important task to protect human life, considering the extreme or cold weather conditions, the length of the working time, the density of the traffic flow in the region, the rest period, etc., a mechanical flag bearer can work longer and reflective It means that the uninterrupted safety of the officers working on the route can be ensured thanks to the materials and led lighting.
Stock Code: TPA